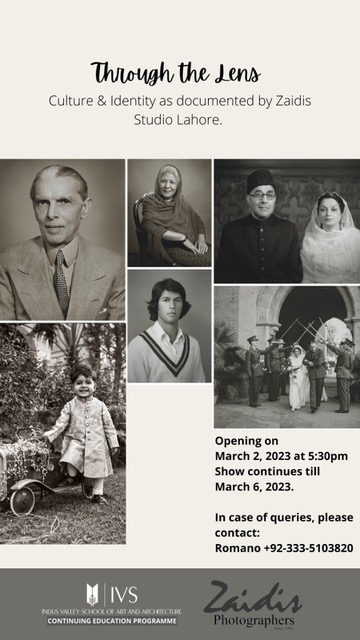 The Indus Valley School or Art and Architecture is honoured to host an exhibition, "'Through The Lens: Culture and Identity as documented by Zaidis Studio, Lahore" from March 2-6, 2023 at the IVS Gallery, Karachi. It is a homage to the Zaidi family in general, and the Late Shahid Zaidi in particular for painstakingly and meticulously capturing the cultural anthropology, lifestyle, personas, socio-political milieu of Lahore, and the Indian Sub-Continent. An avid outdoorsman, pilot, fisherman, and mountain climber, Shahid Zaidi was the custodian of a few hundred thousand negatives, each a small part of the society and times of the city that was Lahore. He had the foresight to begin digitizing the old format negatives (many on glass slides), by photographing the negatives with a high-resolution digital camera. The result of his labours is before you. The digitizing process will take a few more years. We await the unfolding of the full story once this massive task is complete.
The exhibition is open to public and is a great opportunity for not just students of film and photography to learn about the craft of portraiture, but also present an enticing study for those concerned with fashion, culture and civilization, South Asia pre and post partition, art and cultural history.

The show will be open till March 6, 2023.