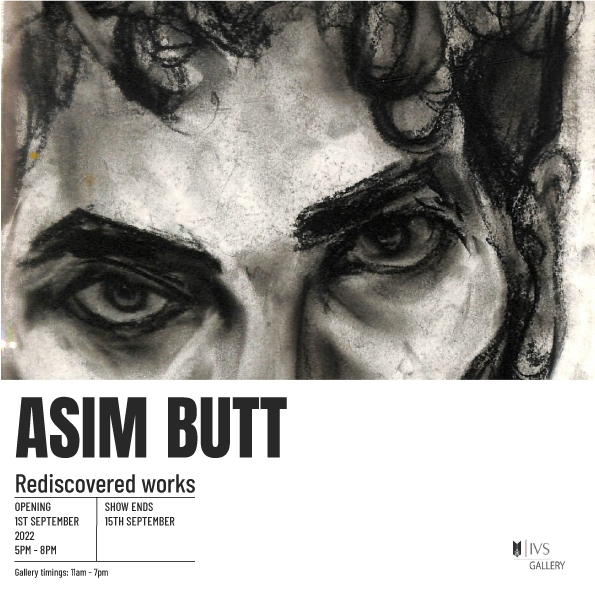 The IVS Department of Fine Art is hosting an exhibition of Asim Butt's earlier works.
ASIM BUTT | REDISCOVERED WORKS

1st September 2022, 5 - 8 PM
IVS Gallery, Indus Valley School of Art and Architecture
The exhibition showcases the late artist's contributions to art in Pakistan and provides a unique insight into his early works as a student and graduate of the Indus Valley School of Art and Architecture (IVS). It includes a number of paintings and drawings that highlight Asim's studio experience where he was constantly experimenting with new ideas and gestures while negotiating his creative journey. This is evident from works that appear preparatory and experimental in nature, probably ripped out of larger final works. Proceeds from the exhibition will go towards the Asim Butt Scholarship Fund which supports the education of deserving students at IVS.
View Catalogue and Exhibition Note
Bio
Asim Butt was born on 26th March 1978 in Karachi. He studied Social Sciences at the Lahore University of Management Sciences and later pursued a BFA from the Indus Valley School of Art and Architecture where he graduated from the Fine Art department in 2006. In the short space of his career, he produced a diverse and critical body of work within and outside his studio. In 2011 a year after his death the Mohatta Palace Museum organized a retrospective exhibition showcasing the expanse of his practice and in 2014 this body of work and his legacy were extensively documented in a monograph titled 'Rebel Angel'- edited by Nafisa Rizvi and launched at the Canvas Gallery in Karachi.
We hope to see you there.